It's time to start ordering your holiday gifts!
Posted on 10/16/2017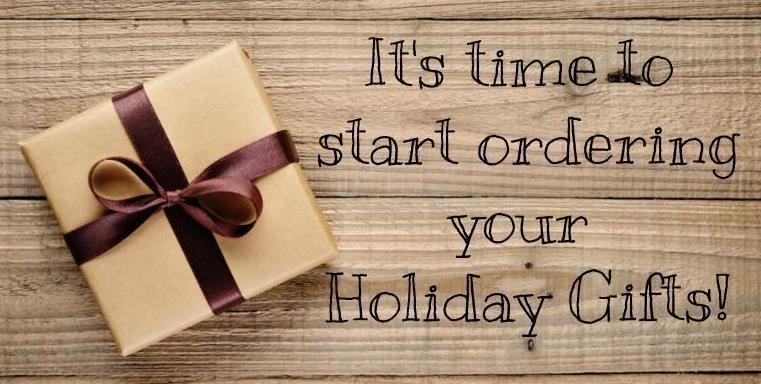 Check out our online Imprintable Apparel Gift Catalog. We can embroider or screen print your logo onto any item, and also offer personalization with first or last names. Keep in mind that this catalog is just a handful of the items we have available. Feel free to contact us for more products! http://bit.ly/2wZbrgS
For lots of different ideas for holiday gifts, including drink ware and tech items, check out our ideas catalog. http://bit.ly/2ztgojx
Check out our online Holiday Food Gift Catalog. http://bit.ly/2zcN4No
DON'T KNOW WHERE TO BEGIN WHEN CHOOSING A HOLIDAY GIFT?
Holiday gifts are a great way to say 'thank you' to both employees and clients. When deciding on a gift, think about what you might like to receive yourself as a gift, and go from there. Here are some 5 ideas to get you started...
1. PORTABLE CHARGER or CHARGING CORDS. Everyone has at least one item that they always seem to need to charge, whether it be a cell phone or a tablet. So that's why a Portable Charger or multi-port charging cords make a great gift!
2. CUSTOM CORN HOLE GAME! No matter what your athletic ability, everyone can play corn hole, and it is fun for all ages! This is always a popular gift, and a fun way to display your brand!
3. CERAMIC COFFEE MUG OR TRAVEL MUG - whether you like coffee, tea, or hot cocoa, 99% of us enjoy a warm beverage every day. That's what makes a ceramic mug or travel mug the perfect, practical gift!
4. PERSONALIZED PEN! Nothing beats a nice, high quality pen. Make it even more special by adding your logo and personalizing it with the recipient's name. We've sweetened this gift idea by making it our October special! Check out the coupon in this month's newsletter. Here is our PEN catalog so you can see the terrific choices of metal pens that can be personalized with laser engraving (pages 4-52).
5. A COOLER BAG is always a well-received gift. With so many style choices, too: they can come with built-in seats, come with wheels, be in the form of a back-pack, or tote bag....something for every style and budget!
If you would like more information on these or any other gift items, please contact our office.